Online Solutions Start With Your Business In Mind
If you are in business, your online assets need to work for you. Your investments might include a website, a software application, automation, or integration with existing digital systems. Whether you use one of our cloud-based business software solutions, we build a custom software solution for you, or you want a website that is designed to attract and convert visitors into qualified leads, we are focused on what matters – getting business results.
Cloud-based Software Solutions
Custom Software Development
Get More Clients with Strategic Inbound Marketing
The best strategies maximize the use of your limited resources and capitalize on the weaknesses and errors of your competitors. In business, effective strategies also anticipate where you can add the most value in the market. Great brand positioning means you focus on your top strengths and the impact that they have on your ideal clients. Your online marketing presence must differentiate your company in a way that showcases your unique expertise and attracts those same perfect customers.
"It takes 20 years to build a reputation and five minutes to ruin it. If you think about that, you'll do things differently." ~ Warren Buffett
The Audience Is Clear
We are singing the same song as we are selling, marching to the beat of the same drum, in pitch-perfect harmony – well, you get it. It isn't the right match for everyone. But, for those on stage with us, we can reach your audience in ways that resonate and help create long-term fans for your business.
Ultimately, we know who we can help and who we can't so we don't make any exceptions. Unless you have lots of money and it makes sense – a partial match – we are entrepreneurs after all.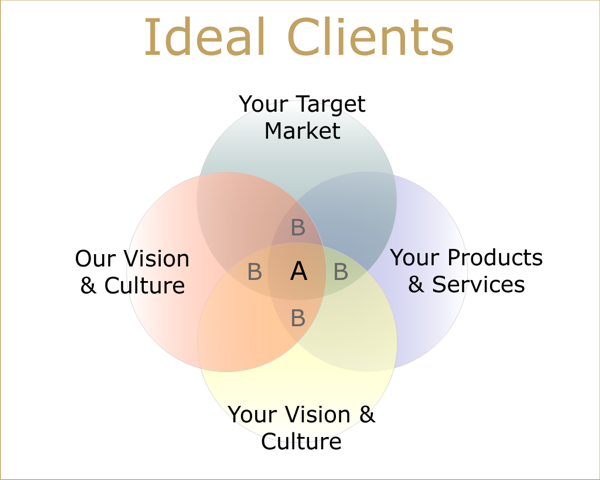 Learn more about how we defined our market focus and brand positioning and then apply the lessons to your business.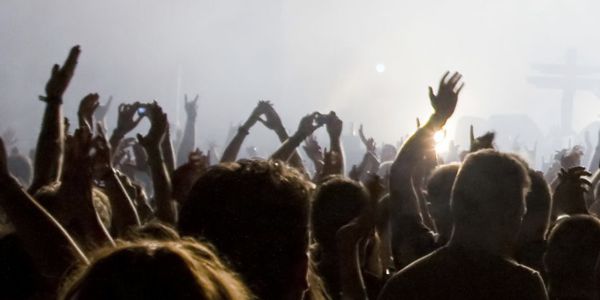 One Target Market – SMB
Small and mid-sized businesses (SMBs) tend to buy products and services differently than consumers, large organizations, or government departments.
Getting into the minds of people isn't easy. There is just not enough time in the day to understand everyone. Plus, using brain jars in a lab is so old-school. So we've been busy studying the buyer's journey and tearing apart the sales process for one focused segment – business owners and decision-makers in the SMB space.
We target this one group – for ourselves and our clients.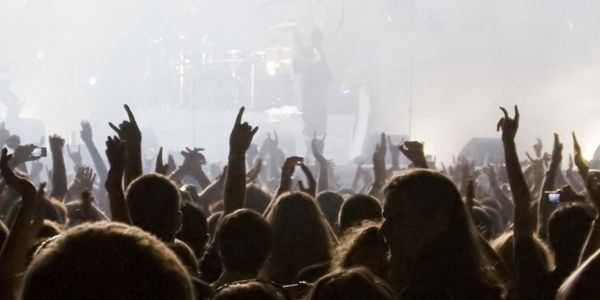 Professionals Helping Businesses
Maybe people call your company to solve their business problems. Perhaps you are the trusted partner taking on an essential function so entrepreneurs can focus on their core.  If you help businesses survive and thrive, you are probably a good match for what we do.
Professional services, consultants, and business service and product companies are all focused on helping their clients solve a problem, get something done, or operate more efficiently. You have a value proposition that sets you apart in the market – if only you could get the message out.
We sell based on the long-term value we create – not lowest price – and we want our clients be able to do the same.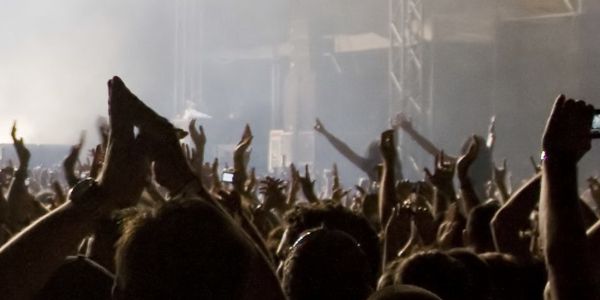 Supplier for a Bigger Solution
Many businesses provide products and services that are used by other small and mid-sized businesses as a piece of their solution offering. These aggregators purchase from you because you create something unique in the marketplace or you provide services that require a certain amount of expertise.
Whether you are a manufacturer, an engineering company, architectural firm, construction company, or provide skilled trades – you stand for something, have a story to tell, and are sought out for your knowledge, experience, and talents.
The best vendors add considerable value and are irreplaceable to the customers they serve.
Online Business Software Solutions
A politician, a priest, an entrepreneur, and a web developer go into a bar. After an evening of heated discussions about changing the world, the politician goes off to try to raise money to get re-elected. The priest tells his congregation about the required changes and asks them to pray.
The entrepreneur starts a new company with the web developer, and they build some software. Together they changed the world, one client at a time. Software developers are practical like that.
Software used to be the domain of big companies with large budgets. Things have changed. Small and mid-sized businesses (SMBs) now have access to cloud software choices for the typical stuff. Plus, through some clever rapid development tools we've built, the affordability of that innovative online solution for your business just got a lot closer.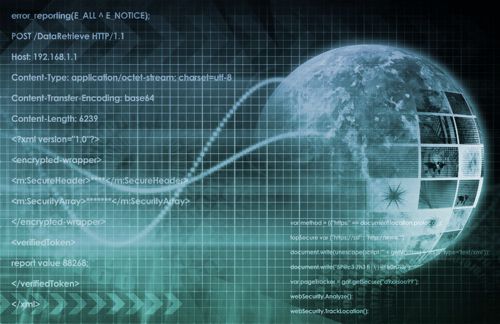 Transform From Survive To Thrive
There is a little secret we don't talk about very often as entrepreneurs. We all make mistakes and don't always know what we are doing.
As you move through the natural stages of business, mistakes and challenges can derail your plans. Often we are not even aware of the external threats or the impact of our mistakes. You may be struggling in survival mode. Or you may have scaled back your growth plans or otherwise be stuck on a plateau. Being on a plateau merely gives the illusion of safety. The rest of the world is moving, so this will lead to shrinking and eventually to failure.
To consistently thrive, sustainable growth is the ideal state for a business to achieve.
Our Mission: To help businesses transform from surviving into thriving, sustainable growth.
Flexible Solutions for Your Business
Your business is unique. You deserve a custom solution to solve your particular challenges. A flexible solution based on solid principles.
 "Business has only two functions — marketing and innovation." ~ Peter F. Drucker
We help you get and stay in sustainable growth:
Getting More Clients – Your sales and marketing engines can generate additional revenue, new clients, excellent client retention and great social proof.
Managing Your Brand – You have the ability to measure and understand how your target market perceives your value or brand promise. You manage and adjust your company culture, product and service delivery, marketing, and sales to be a market leader; competing on value instead of price.
Delivering Consistent Value – You can grow or scale your business while maintaining your ability to deliver consistent value to your clients, recruit talent, train and develop teams, innovate, and keep your competitive edge intact.
The 3 Keys to Sustainable Growth
The three keys to understanding sustainable growth are:
Your brand is how your value is perceived by your target market.
Marketing and sales are how well you communicate your value and brand promise to your target market.
Your true value is how well you deliver on your promise including every client touch point and the hidden pieces that affect your ability to innovate and deliver.
The ultimate goal is to get perceived value, communicated value and delivered value into a state of optimal balance. Balance means getting the perceived value as close as possible to the delivered value and communicating the true value in a way that resonates with your target market. The better you understand what your clients and target market need and value, the better you can serve them; and the more successful you can be.
Achieving sustainable growth means a continuous circle of optimization and improvement across all three key areas of value.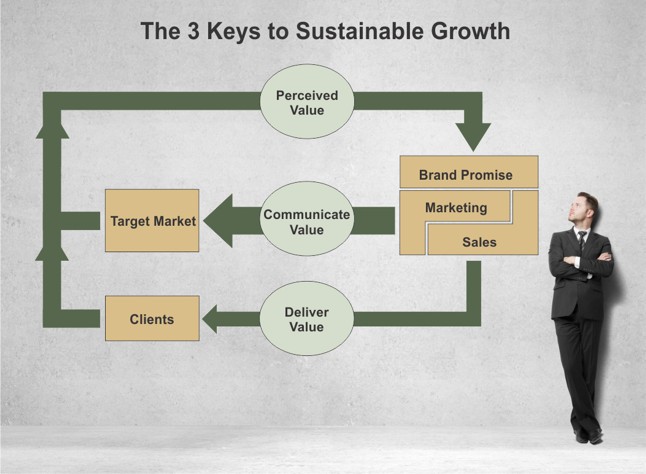 Whether you need a guide or someone to take full ownership of a project or a business function, we partner with you to get the results you need in the way that makes sense for you. This includes providing greater depth and talents through our extensive partner network or working with your current team and vendors.
We offer flexible and customizable solutions to generate the results you need. The stage of your business, where it is at right now, your culture, and where you want to go all play a role in determining the right approach for you.
We believe in creating candid, win-win relationships for the long-term.
"In marketing I've seen only one strategy that can't miss – and that is to market to your best customers first, your best prospects second and the rest of the world last." ~ John Romero
Get More Clients
Brand Management
Marketing Strategically
Sales Effectiveness
Deliver Consistent Value to Clients
Strategic Execution
Building High Performing Teams
A Culture of Innovation and Profit
Technical Services and Automation
Maximize the Value of Your Business
Preparing Your Business For Sale or Transition